Used Car Prices Continue Up – More Subprime Affordability Challenges Ahead?
Trevor Watson | June 2, 2020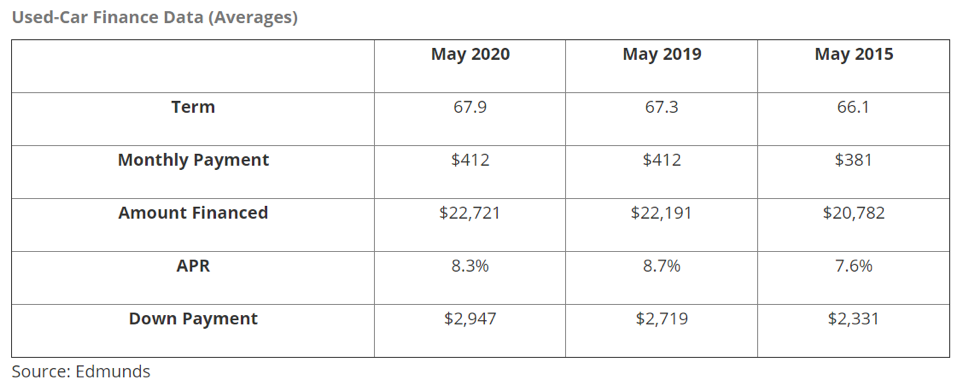 https://www.autoremarketing.com/subprime/average-new-car-aprs-drop-levels-not-seen-2013-used-stays-nearly-steady
This new article released by Subprime Auto Finance News (link above) touched on trends for the month of May 2020, as we watch states slowly loosen their lockdown orders. While the title of the article refers to the average APR's of new and used car deals, what stood out even more dramatically were used car prices.
Used car prices continued their climb that begun after the Great Recession and reached a new average high at $22,721 in the month of May. Of course, prices are not currently stable and had plummeted in the previous months of March and April. In addition, there are numerous threats on the horizon for inventory levels, from looming rental car bankruptcies to delayed lease returns and deferred repossessions that could flood the used car market with inventory before long. However, new car manufacturing has been nearly cut off for some time now and new rental car fleet orders are likely gone for the foreseeable future. Depending on consumer demand, these factors could keep used car supply strained and prices up for the next few years.
Subprime customer affordability in the BHPH industry has been a challenge for almost a decade, as indicated by the continuous extension of term on in-house portfolios in the annual BHPH reports. As used car prices have marched steadily upward, the only way dealers could offer a monthly payment within reason to a subprime customer has been to stretch term. If prices continue to rise, or even merely stay at their current levels for the foreseeable future, subprime customers already experiencing financial challenges from the pandemic will be hard pressed to afford a traditional BHPH loan.
Lease-Here, Pay-Here is the solution to subprime customer affordability in today's uncertain environment. Thanks to the lease structure and the incorporation of the residual value, a dealer can offer a customer a payment significantly lower than their BHPH competitors on the same vehicle. This sets up their customers for success with a payment they can actually afford, without extending term. This results in better performance, less delinquency, less collection costs, lower charge off and higher profitability for the LHPH dealer.
Learn more about all the benefits a Lease-Here, Pay-Here program can offer by downloading our free e-book here: