HOW TO SET RESIDUAL VALUES?
Eyo Toe | March 8, 2021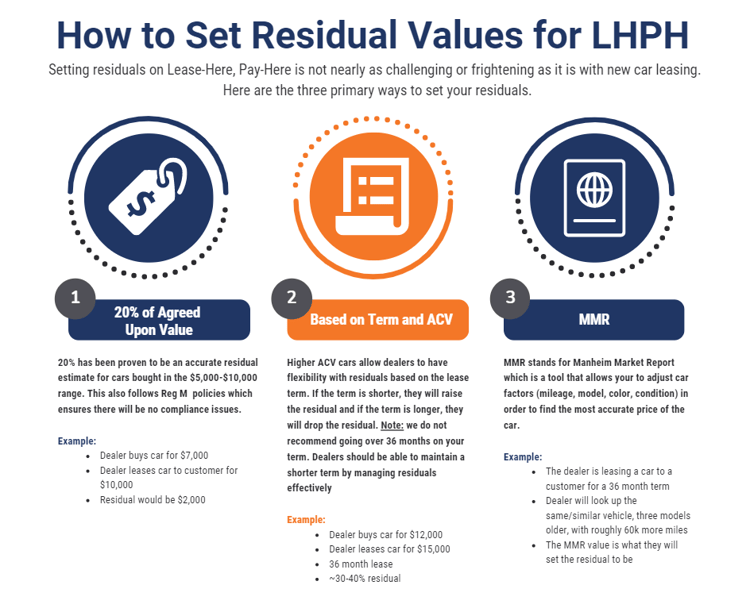 Setting residuals has a stigma of a risky and complicated process due to the new car leasing industry. With used car leasing, residuals are one of the parts of the lease contract that the dealer controls. Setting residuals correctly plays an important part in maximizing the profitability of a vehicle by leasing it for 2-3 full term leases and the selling the car at auction at the end of its lifecycle.
This infographic shows three ways dealers can go about setting residuals. For lower ACV cars, 20% of the agreed upon value is a standard residual calculation which maintains compliance with Reg M (10% residual of the ACV) and ensures the car will be worth at least that value at the end of the lease.
Higher ACV vehicles allow for the residual to be set at a value which allows the customer to maintain an affordable monthly payment (~$400-$500), without extending term. With a term of 24-36 months, research shows that 30-45% of the car's value is a safe estimate for the residual value on a higher ACV vehicle.
Lastly, Manheim Market Report (MMR) is a tool that dealers can use to give an accurate estimate of the future car value after the consumer has leased it by adjusting estimated milage, car color, make and model, and more.
Keep in mind, with a well-constructed LHPH program, the goal is to lease out the same vehicle two, three, even four times on full-term leases before you liquidate the asset. When you are successful in turning these vehicles through multiple full-term leases, if you miss the last residual setting by a few hundred dollars, the vehicle will have already generated a substantial profit for the dealer over a number of years. Done correctly, residual setting is not a significant risk for LHPH dealers.
If you have additional questions, please reach out to Trevor Watson at TWatson@LHPH.com.