Dealer Spotlight: Car Connections
Tyler Mullen | October 3, 2022
Understanding the Lease-Here, Pay-Here business model can be a bit intimidating at first glance. However, the more one does research into this form of leasing, the more understandable it becomes. We at LHPH Capital were looking to help those looking for more information discover how the LHPH business model can be beneficial to them. This is why we reached out to current LHPH Capital customer Junior, to discuss why he chose LHPH over the typical Buy-Here, Pay-Here business model.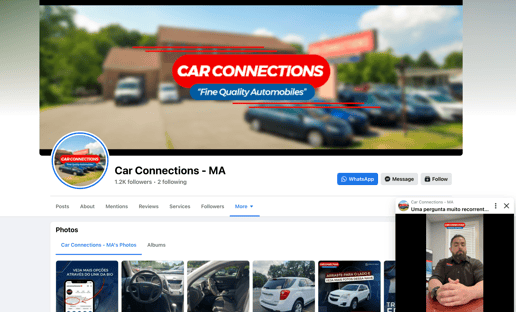 "Years ago I saw how hard it was to buy a vehicle being an immigrant..."
Junior runs a mid-sized car dealership based in Somerset, Massachusetts, and has been working with LHPH Capital for over a year. Junior's dealership primarily caters to immigrants who cannot get a traditional loan through the bank, making it difficult for them to make a large purchase on something such as a vehicle. In our discussion, Junior told us that the Covid pandemic actually had benefitted his company tremendously. Around this time banks had started denying auto dealers loans, which forced Junior to pivot his company. This is how Junior discovered the wonders of the LHPH model. After adopting the lease-to-own business model, Junior's business had become so rapidly successful, that it became hard for his company to keep supply to match the demand, which is how Junior was led to LHPH Capital. The transition to the LHPH model allowed his company to reach heights never seen before.
"LHPH Capital Walked Me Through Each Step... They Are Awesome to Partner With"
In his search for someone to fund his business, Junior was referred by an acquaintance to research LHPH Capital. After studying up on the company, he reached out to a representative of LHPH Capital to ask certain questions and to receive more information regarding how funding works with the company. After much back-and-forth, Junior was suggested that he go to the LHPH Summit to see for himself all the benefits that the Lease-Here, Pay-Here model has to offer. Junior told us " after attending the summit, I got all of the proof that I needed to move forward". The LHPH Summit connected him with other LHPH dealers in the space and he suggested that if someone is interested in learning more about how LHPH can benefit their company, they should certainly attend.
"After Attending The LHPH Summit, I Knew LHPH Capital Was The Right Choice"
Before attending the annual LHPH Summit, Junior was in near disbelief that people could be so successful using the LHPH model. Meeting the real people behind LHPH dealerships caused him to realize just how possible it could be to become successful using this business model. He mentioned that meeting dealers with thousands of current accounts is what first got his attention. Seeing how the LHPH model has helped generate significant cash flows for dealerships across the United States opened Junior's eyes, and it was at that moment he knew it was in his best interest to work with LHPH Capital.
If you or someone you know is interested in understanding how the Lease-Here, Pay-Here model works, sign up for our newsletter to stay up to date with all things LHPH!